Best ECG Fitness Tracker
"The Frontier X2 changes things up by having you wear the fitness tracker directly over your heart, providing continuous ECG monitoring that keeps you aware of your heart function and strain."
Featured December 2022
Safely Exercise Without Strain
"The device measures cardiac strain, a sign that you are pushing so hard that the heart muscle is not getting enough oxygen."
Featured April 2020
Accurate Reading of Effort
"By listening to your heart and lungs, this strap measures real-time cardiac strain and breathing rate for a more accurate reading of effort."
Featured September 2020
Holistic Heart & Lung Recordings
"Rather than just beats per minute, the chest-mounted computer measures and records the functioning of the heart and lungs."
Featured September 2020

The best way to monitor your heart
Easily see summary metrics right on the device

One button for all key actions

Lightweight and waterproof

Clip on and adjustable chest strap

Dry electrode system without wires for easy setup & users comfort
Add to Cart
THE FRONTIER X2 MEASURES WHAT MATTERS

Heart Rate

Rhythm

Strain
Real time alerts

Continuous ECG

ECG During Exercise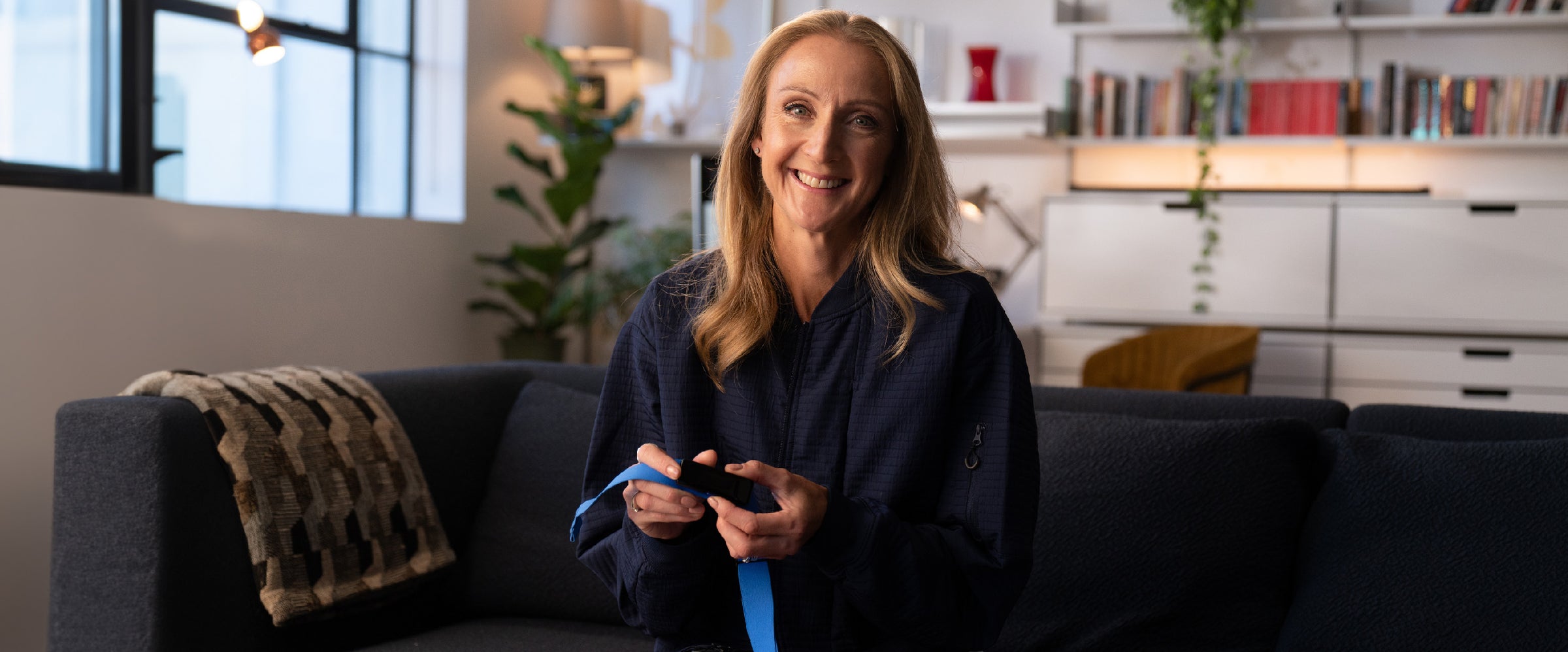 Try it for 14 days, risk free
Frontier X2 comes with a 14-day, risk-free money back guarantee and 1 Year Limited Warranty.
Buy now
High Quality ECG
Continuous ECG up to 24 hours
The world's first and only consumer wearable that allows you to record high-quality ECG in real-time for upto 24hrs during any activity.
Real time, live ECG streaming
Share your Live ECG in real-time with experts, family, or friends, whenever you want, wherever you want, even while exercising!
Detailed ECG graphs
The Frontier X2's patented ECG technology gives you the unique ability to record up to 24 hours of highly detailed, accurate data through any activity of your choice!
Route maps with ECG
Correlate your ECG data with your GPS data to gain unprecedented insights into your ECG response to pace, elevation, intensity and distance.
Heart Health Metrics
Accurate Chest-Based Heart Rate
Track accurate chest-based Heart Rate through sleep, rest or exercise and get detailed post-activity insights.
Heart Rate Variability (HRV)
Get insights into how your body manages stress and recovery and by measuing your HRV before and after workouts.
Stay Safe with Strain monitoring
'Strain' measures the amount of oxygen deprivation experienced by your heart. Manage training intensity to avoid high strain on your heart for prolonged periods.
Heart Rhythm Chart
Get a heart rhythm chart identifying deviations from the norm, with data explaining the duration, frequency, and occasions when these rhythms occurred.
Heart Health Insights
Activity Tagging & Health Entries
Frontier X2 allows you to capture key events, feelings, or choices in your day to help better understand the response of your heart health to those aspects.
Heart Rate Zone Training
Training in different Heart Rate Zones achieves different goals. Frontier X2 ensures you stay within your chosen zone so your goals are achieved most efficiently
Monitor progress over time
Analyse the daily, weekly, and monthly progression of all key heart metrics including HR, BR, Strain, and HRV.
Detailed physiological graphs
Use our dynamic web dashboard to view detailed graphic representations of all the physiological metrics measured by the Frontier X2.
Heart Rate Zone Insights
Use our dynamic web dashboard to view detailed graphic representations of all the physiological metrics measured by the Frontier X2.
AI-generated recommendations
Push yourself safely with personalized workout insights and AI-generated recommendations for future workouts.
Exercise and Training
Monitor 20 types of activities
Track and analyse 20 different types of activities, including running, cycling, meditation, sleep, rest, swimming, trekking etc
Effortless zone based training
Set real-time vibration alerts for a range of metrics so you stay within the right workout zone without needing to look at your phone or smartwatch.
Train without distraction
Use the Frontier X2 without connecting it to the mobile app. Review all your physiological metrics without repeated glances at your phone or smartwatch.
Real-time vibration alerts
Train with confidence knowing your heart is protected. Set custom alerts to give you real time feedback when you're overstraining yourself.
Light, sturdy and durable
The Frontier X2 is so light that you'll barely feel it on you, but also so durable that no activity is off limits!
Waterproof
The Frontier X2 is IP67 rated - waterproof and sweatproof up to 1.5 meters. Perfect for swimming!
Performance Insights
Sustainable Training with Training Load
Get a true estimate of total exertion during any activity. Weekly training load goals help ensure you're improving your performance without over-training.
Prevent injury by monitoring Body Shock
Monitor your Body Shock to analyse the impact of running surfaces, gear, form changes or fatigue, helping prevent injuries during high impact activities.
Step Cadence
Measure the number of steps taken per minute while running to get additional insights into your running, walking or hiking performance.
Compatibility
Bluetooth 5.0 connectivity
Sync with external devices (Apple Watches, Garmins, Pelotons, Zwifts, and more) as an HRM via Bluetooth Low Energy.
Integrate with your favorite Apps
Connect the Frontier X2 to external apps in your exercise ecosystem, including Apple Health, Google Fit, Garmin, and Strava.
Sync your data across apps
Automatically sync your health and workout data from your favorite apps through Apple Health, Google Fit, Garmin, and Strava.
Simultaneous multi-device connectivity
Now connect the Frontier X2 to 3 devices at the same time as an HRM
Share your data
Securely share your data
Instantly share Frontier X2 data using a secure link so your doctor, family, or friends can stay worry free, always!
Unlimited, unrestricted downloads
Download a .FIT file of your activity summary to upload on to other platforms like Strava.
On-device memory of 24 hours
Frontier X2's on-device memory can store ECG recordings for up to 24 continuous hours, making it perfect for constant monitoring.
Unlimited cloud storage
Get unlimited storage in your own free cloud account. Get lifetime access to 1000s of hours of ECG recordings and analysis.
Share PDF reports
Download a .PDF file of your continuous ECG to either analyse yourself, or easily share with an expert.
Onboarding and Support
Get a Free Demo
Get a Free Virtual Demo upon purchasing the Frontier X2 to learn all about the device and its variety of features.
Complimentary consultation
Receive personalised insights on your training and heart health from a heart health coach who will review your Frontier X2 data and provide personalised guidance.
Lifetime 24x7 support
24x7 support available via email (support@fourtfrontier.com), live chat on our website or mobile app, or by dialling in to our toll free number.
Engage with our community
Engage with thousands of our community members, sharing stories, workouts, and recommendations in your journey towards better heart health.
Quick and easy onboarding
Get in-app onboarding and an easy to use knowledge base to get familiar and comfortable with all of the Frontier X2 features.
Quick Start User manual
Download a PDF version of the user manual by clicking here, if the step-by-step online manual isn't for you.
Forget heart rate monitors and smart watches
Frontier X2 uses revolutionary technology that tracks every rhythm of your heart, delivering personalized insights that help you build your strongest heart.
Device Specs
METRICS
Heart: Heart Rate, Strain, HRV (Heart Rate Variability)
Performance: Breathing Rate, Training Load, Body Shock, Step Cadence
Device size
Weight: 25 grams
Dimensions: 73mm x 24mm x 13mm
Water resistant up to 1.5 meters
Battery
Upto 24 hours of continuous usage; 12 - 15 days under typical usage
Full charge in under 45 minutes
CONNECTIVITY
Frontier X2 now has Bluetooth 5.0 for 3X speed and greater range.
Frontier X App available for iOS and Android phones, as well as the Apple Watch
Displays Heart Rate on compatible BLE sports watches
In the box
Frontier X2, 2 x Elastic Chest Straps, Micro USB Cable, Quick Start Guide
Frontier X2 Certifications
Frontier X2 is manufactured in accordance with the highest international standards.
Frontier X2 Integrations
The Frontier X2 uses Bluetooth Low Energy (BLE) technology to sync with third-party devices and provide Heart Rate data in real-time. That means you can train distraction-free with the device you already own without losing out the Frontier X2 metrics.
The Frontier X2 is the World's First Smart Heart Monitor that allows you to record your ECG during exercise.

Unlike a regular heart rate monitor, which typically only transmits heart rate, the Frontier X2 records, stores, and processes your ECG (while exercising or stationary, both), Heart Rate, Strain, Breathing Rate, as well as biomechanical parameters like Cadence (step rate) and Body Shock.
The X2 can also give you real-time feedback through vibration alerts, when you cross preset thresholds for Heart Rate, Breathing Rate and Strain. Moreover, you can transmit the physiological metrics recorded on the Frontier X2 to anyone across the world, in real-time. This includes the ability to live-stream your ECG in real-time to anyone at anytime as well.
Most devices in the market that allow you to record ECG are either watches or hand-held. Hand-held and Watch ECGs require you to sit still and hold the device with both hands, so they cannot be used during exercise. They also suffer from poor data quality, because the ECG is being acquired from the finger or wrist, instead of the chest. Further, they typically record only 30-60 second segments of ECG and do not allow for long continuous recordings like the Frontier X2.
With the ability to record up to 24hrs of continuous ECG data, the Frontier X2 was designed to get the best quality metrics while on the move, in any environment. The chest-worn design keeps your hands free for sport and is tightly fastened to ensure good data quality during motion. By collecting the ECG from the skin just over the heart, the Frontier X2 can pick up minute electrical changes that may be lost if the ECG is picked up from points further away, like the arm, wrist or fingertips.The ECG quality on the X2 has been validated against a GE Holter Monitor and most closely resembles the V5 lead position of a 12-Lead ECG.
The Frontier X2 measures changes in your ECG, indicating oxygen deprivation and heart muscle damage. The device subsequently provides your Cardiac Strain values in
real-time on our app. It also warns you with a double-vibration alert if you cross your pre-set threshold, helping you exercise at an exercise
intensity that is safe for your heart. This alert can tell you whether
you should finish the last lap, run that extra mile, do those last few
push ups, or just give your heart a rest.
The Frontier X2 measures both, Breathing Rate and Heart Rate. Breathing rate is much more closely correlated with your true internal effort than heart rate, because unlike heart rate, it is not influenced by external factors like caffeine, lack of sleep, temperature, humidity and stress, which are some of the problems with heart rate based training. The Breathing Rate based alerts on the Frontier X2 tell you when to speed up and when to slow down, enabling you to optimize your performance.
The ECG obtained from the Frontier X2 resembles the V5 lead position of a 12-Lead ECG. The quality of the ECG has been validated against a GE Holter Monitor.

Please note the Frontier X2 is a health & fitness product, and is not intended to be used for diagnostic or treatment purposes. Please read ourdetailed disclaimers here.
​The Frontier X uses Bluetooth Low Energy (BLE) Technology/Bluetooth Smart to sync with other devices as a heart rate monitor. These devices include certain models of ​Apple Watches, Garmins, Whoop Straps, Pelotons, Zwifts and more. If your external device is equipped with BLE/Bluetooth Smart technology, the Frontier X2 should easily sync as a heart rate monitor (HRM) with no issues whatsoever. 
The Frontier X2 can simultaneously connect to a maximum of 3 devices - 1 Mobile App & 2 External HRMs.
While the external device will only reflect Heart Rate, the Frontier X2 itself will reflect various metrics such as ECG (live and recorded), Breathing Rate, Strain, Heart Rate, Body Shock, and Training Load once it is connected to the mobile app, post your workout. You can see a more detailed view on the Frontier X web dashboard as well, once you've uploaded data from your device to the cloud.
Please note that the Frontier X2 does not support ANT+
There is currently no direct integration between the Frontier X2 and these fitness apps. However, there are a couple of workarounds.

When the Frontier X2 is connected to your phone/apple watch app and the phone/watch is carried along - it allows you to record GPS data as part of your workouts as well. The Frontier X2 doesn't have a GPS chip of its own, and thus uses the phone's/watch's GPS. You can then download a .FIT file of your workout from the Frontier X2 dashboard and upload it to apps like Strava, Training Peaks, JeFit etc. for further analysis. 

Alternatively, you can connect the Frontier X2 to an external HRM like a Garmin or Polar and then pass the information on to Strava or Training Peaks from your external HRM. The data uploaded onto Strava in this case will include the Heart Rate measured by the Frontier X2.
A fully charged Frontier X2 can last for up to 24 hours when recording data continuously and 14 days if used for an average of 1 hr/day.
Yes. You can record data on the Frontier X2 without connecting the device to the mobile app. The X2 is equipped with a memory chip, unlike most other devices on the market. This ensures that even if you don't connect it to your phone during your workout, or choose to connect it to an external device like Garmin, there's zero data loss as you can come back home and connect the Frontier X2 to the phone later. Once synced, all metrics recorded on the device will be accessible.
Swimming is one of the most common use cases of the Frontier X2. The Frontier X2 is IP67 rated, which means that it is completely waterproof for up to 1.5 meters (approx. 5 ft).
Yes. The chest-worn design of the Frontier X2 keeps your hands free for sport and is tightly fastened to ensure good data quality during motion.
While Frontier X2 has not gone through the official safety testing for use with pacemakers, we have several users who use the device with pacemakers. None of these users have reported any issues.